At 1:10am 2/3/16 Whippy took her last breaths. :'(
RIP beautiful girl, run free big puppy in Rainbow Bridge.

When Whip struggled to get up on the lounge that night so was lifted and she wouldn't take some chicken from my dinner plate I knew she wasn't right, but she'd had a few moments like this in the past and the next day been bouncing around singing as normal. But this time her eyes were telling me she was tired and getting ready. The kids were able to spend the night cuddling her on the lounge before going to bed and they too knew she was not quite right. There was nothing bad wrong or happening, she was just not her normal self.
By 11pm last night I said to Dusty to come and say his goodbyes. She had started to go into shutdown. I woke him again after her passing to say his final goodbyes, laid beside her.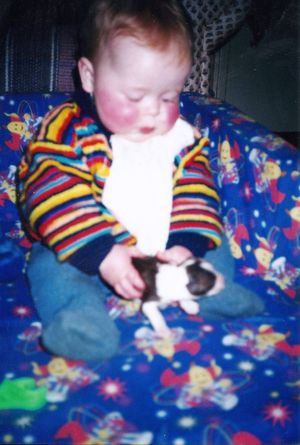 We are always amazing lucky to have our dogs, but every now and then we have everything to thank them for! Dusty was Whips since he was only 8mths old. We have pictures of her in the jolly jumper with him! Whip aka Whippy, Whippa, Whipples, big puppy was supposed to be Stuart's dog but she chose Dusty from day dot. She would often go walk about in the house when little and we would find her under Dusty's cot asleep and if he was awake she would be right beside him, even though he often picked her up by her ears.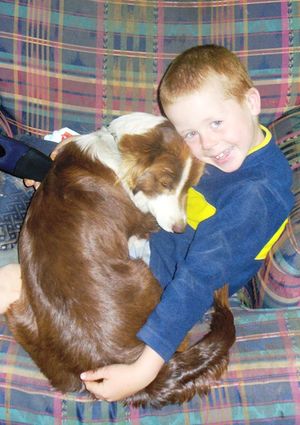 We bred Whippy, 14 years ago... This little chocolate Bundle who had a whip of white through the chocolate down her forehead, she was a result of Kooee and Boppa, I use to sneak her inside the cuddle up to Stu when she was super little until he finally said yes we could keep her.

Whip has many kids and grandkids out there with friends, Whippa had Miss Maggie Moo, who also continued her line and as does miss Roxy who is Maggies daughter. They are all just like nanny Whip, fiercely loyal and unconditionally loving! ♥





Whip and Dusty shared a massive bond, they were inseparatable. Whip would start singing aaaarrrrrrrroooooooooooooo

happily at the gate far, far before the time you knew the school bus was about to pull up and then off they would go to get out of uniforms and go adventuring, never ever far from his side. She taught him friendship, she taught him trust, and she taught him LOVE.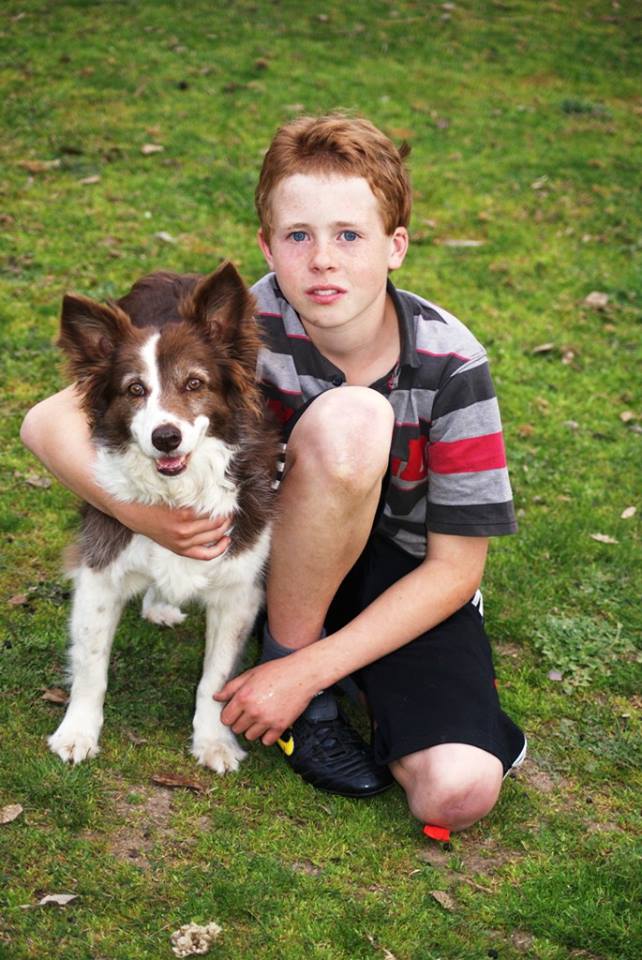 Whip was also an amazing working dog, she helped Stu learn how to work sheep, they learnt together but he often said that she was the one without training that always seemed to know what to do before he asked her. She could sit, drop, weave, roll over, shake hands, high five, high ten, spin, cuddle and die when shot with a pretend gun. We use to always say to her though Whippy, dead dogs don't wag their tail! She loved to please you and was ALWAYS singing, such a happy girl!

Alizah our daughter has had Whip as a part of her whole life, she has always been there and yes we have other dogs we love dearly, but none of them are Whip she said this morning.
We are sure going to miss her and although we all knew the time would one day come, by god it doesn't make it any easier. :'(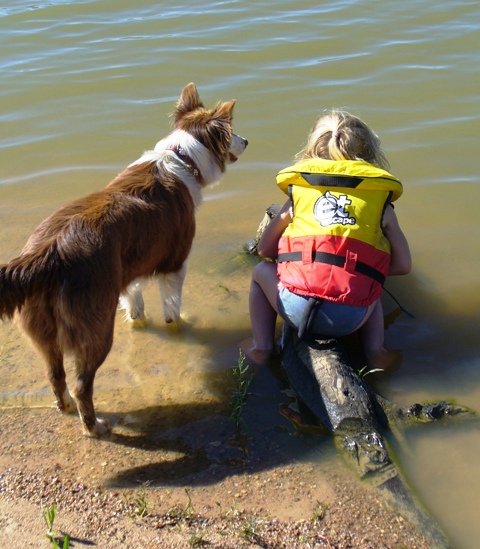 We can be very thankful it was a peaceful passing; she just went off in a big sleep. We can be grateful for 14 amazing years with our beautiful girl!! If I shed a tear for every memory, then I will cry for a very, very long time! Paw prints over the heart. Memories last a lifetime.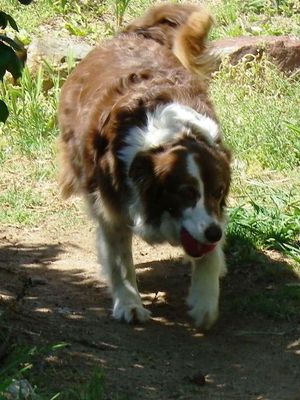 RIP you beautiful girl Whippy! Thank you for helping raise our children, for being my amazing alpha and educator to these younger border collies, your passed on wisdom is irreplaceable and most of all and the part we will miss too much to bear.... for being a massive part of our family ♥ Always in our hearts!